The History of Greenberg House
A Residence of Style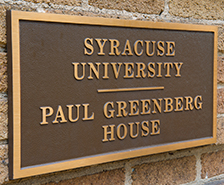 What is now the Paul Greenberg House was built in 1912 as the private residence of Turner A. and Elizabeth Wickersham and their son, Morgan.
Turner Wickersham had come to Washington from Indiana and become successful in real estate. In the early 1900s, Woodley Park was considered a country retreat for politicians and DC's elite, and the 7,700-square-foot Beaux Arts Classical structure, designed by E. Dwight Ryerson of the noted Washington architctural firm Marsh & Peter, was a perfect fit.
Located less than a mile north of the District of Columbia boundary, the up-and-coming area had begun to be developed in the 1870s. To attract residents, it was called Woodley Park—named for the Federal mansion, Woodley, built nearby by Philip Barton Key, a lawyer and congressman who also the uncle of Francis Scott Key, author of the Star Spangled Banner. In 1890, this pleasantly wooded area was interspersed with a few large estates. By 1905, elegant townhouses had begun to line Connecticut Avenue, and by the 1920s, an entire community had been created.
Unfortunately, Turner Wickersham did not enjoy his surroundings for long. He died in 1915, and his wife, Elizabeth, in 1925. In the years that followed, the Woodley Park area became more urban and 2301 Calvert Street NW saw a succession of different occupants. It was the local headquarters of the Oklahoma State Society and housed the Mount Vernon University of Washington. Starting in the late 1950s, it served as the Mount Vernon Nursing Home, until a tragic fire in 1963 forced its closure. Seven elderly residents died and 17 more were injured. Many believe that friendly ghosts have inhabited the house ever since.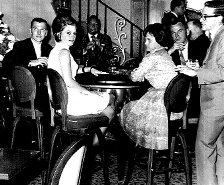 By the mid-1960s, the structure had been repaired and had become the home of a popular fine dining restaurant and lounge, the Talleyrand. Touted as "one of 'the' best places to dine," it also featured live entertainment. The building remained a restaurant for several years, although by the mid-1970s, it was the Indian Curry House. It then had a brief life as a brokerage house before becoming the Calvert Collection, an art- and antique-filled private-event venue.
Building a Permanent Home for Syracuse in DC
In 1981, Syracuse University began teaching a public affairs capstone course in Washington. By 1985, Chancellor Melvin Eggers was looking to establish a permanent location in the nation's capital. Syracuse alum Paul Greenberg '65, president of Greenberg Realty Company in Bethesda, Maryland, joined the effort and, through a generous naming gift, made it possible for Syracuse University to purchase the structure in 1988.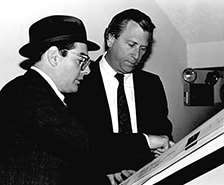 At that point, the building's age and succession of commercial establishments had caused severe deterioration. Under the direction of another Syracuse University alum, architect Darrel D. Rippeteau '73 (pictured, left, with Paul Greenberg), the building underwent extensive renovations.
The two-story entrance portico, for example, was completely rebuilt. Its leaded-glass windows, deteriorated beyond repair, were replaced with curved, etched glass created by a Washington artist, Jay Carter. Hardwood floors were restored or replaced and the grand staircase was rebuilt.
Greenberg House opened on March 27, 1990, and featured a first-floor reception area, a second-floor "Grand Room" and third- and fourth-floor offices, conference rooms, and classrooms. It was dedicated at a naming ceremony presided over by the U.S. Senator from New York, Patrick Moynihan, who later dedicated his former senate flags to the house. They currently stand in the seminar classroom on the third floor.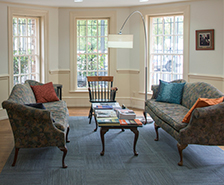 Since its opening, Greenberg House's student-centered focus has become greater each year, with increasing numbers of graduate and undergraduate programs. Students are offered internships, opportunities to hear prominent guest speakers, visits to Washington institutions, and challenging academic curricula. In addition, hundreds of people from the U.S. and around the world have participated in executive and other nontraditional education programs at Greenberg House.
For nearly 25 years—Greenberg House will mark its 25th anniversary in 2015—it has also been the center of Syracuse University alumni life in DC. For the nearly 15,000 Syracuse University alumni in the area, Greenberg House hosts events and provides support, fostering ongoing connections between graduates and the University.