Alumni University Series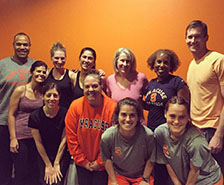 Syracuse University encourages lifelong learning by alumni. Alumni University gives you the opportunity to expand your interests while connecting with other alumni in the DC, Maryland and Virginia area. Explore your surroundings while alumni and friends of the university educate participants in a social environment. Create lasting connections with fellow Orange alumni and hone in on your networking skills. Who said learning has to stop after college?
Spring 2017
Alumni University: Leadership series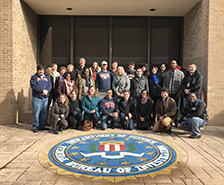 Due to overwhelming response for this seminar in the fall, Greg Milonovich '94, G'96 offered the series again during the spring semester for a new group of alumni. Participants from both the fall and spring sessions reunited in March to recap what they learned in the series and participate in a private group tour of the FBI Academy at Quantico led by Milonovich.
Alumni University: Art Series
Greenberg House continued Alumni University in the spring with an Art Series, focused on experiencing various art forms and embracing your creative side. We kicked things off in April with a private painting party led by former SU women's basketball player Tiara Butler '14 of Designs by Tiara. Guests enjoyed refreshments and conversation with new and old friends while creating Syracuse inspired masterpieces.
Studio Tour with Sebastian MartoranaAlumni University: Art Series continued in May with an exclusive tour and reception at the studio of renowned sculptor Sebastian Martorana '03. Guests got the chance to view some of Sebastian's sculptures up close while enjoying refreshments in the studio. Sebastian also demonstrated his craft as part of the tour and even assisted some guests in trying carving themselves. See photos from the event.
Our Art Series will conclude with a private tour at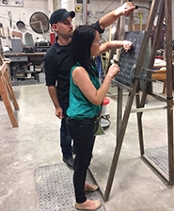 the Library of Congress. Andrew Saluti '99, G'09, chief curator of exhibitions, programs & education at the Special Collections Research Center, Syracuse University Libraries, will join the group and offer brief remarks at a reception immediately following the tour.
Fall 2016
Alumni University: Leadership series

Greg Milonovich '94, G'96, Supervisory Special Agent, FBI, kicked off the inaugural Alumni University series. During "Exploration Leadership", students participated in four interactive sessions on various topics pertaining to leadership development in both personal and professional domains. Participants who attended all four sessions at the Greenberg House qualified for the Capstone class - a private group tour of the FBI Academy at Quantico led by Milonovich.
Alumni University: Health & Wellness series

Alumni University: Health & Wellness focuses on healthy food, fun and fitness for Orange alums. The Greenberg House and Wegmans partnered to bring, Get Cooking!, a Halloween inspiried healthy cooking class for kids this past October. Wegmans staff presented festive and alternative ways to snack healthily during the holiday season. See photos from this event.
In November, alums and friends of the university got their heart rates up at Next Phase Group Ex Studio in Bethesda, Maryland for Syracuse Sweats. Participants flaunted their faviorite 'Cuse gear as they were guided through a full body workout. Immediately following the class, participants were invited to shop at lululemon athletica of Bethesda!