College of Visual and Performing Arts Programs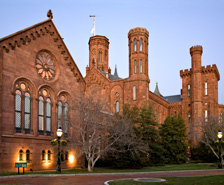 Washington is not only the center of U.S. public policy, but one of the country's leading cultural centers. Students in the College of Visual and Performing Arts have opportunities to explore each of these areas in these intensive programs.
Museum Studies
Museums and Contemporary Practices is a one-week intensive course offered every year during the Maymester session.
Drawing upon the rich resources of New York City or Washington, DC, this course presents an overview of current museum practice. The course has been designed for highly motivated college and university undergraduates and graduate students who have a significant interest in museums.
Learn more about the Museums and Contemporary Practices program
Communication and Rhetorical Studies in DC
Politics and rhetoric are inextricably intertwined, each affecting the other, sometimes in symbiotic rhythms and sometimes in independent rhythms that create conflict and stress. In Communication and Rhetorical Studies in DC, an intensive two-week course in Washington, students study this intimate relationship.
Students examine key sites of political messaging, from campaign advertising and lobbying to public diplomacy and policy promotion. After meeting in Syracuse for the first week, the class travels to Washington to meet with experts and determine how current practices reflect and/or complicate the prevailing scholarship.