Andrew Schwab '03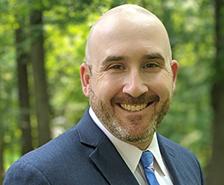 Q: Tell us about your career path and where you are today.
I grew up in northern New Jersey and began my career as Deputy Press Secretary to then U.S. Senator Jon Corzine. It was a great first job and I learned a lot about the critical intersection of public affairs, communications and government. I then transitioned over to the campaign of Gary Schaer who was running for the New Jersey Legislature for the first time. He won that race and I served as his chief of staff for seven years. Two years into those seven years, Assemblyman Schaer was appointed Chairman of the Financial Institutions & Insurance Committee with jurisdiction over all banking and insurance issues in the state. I was in this role during the 2008/2009 financial crisis as well as the changes in health insurance brought on by the passage and implementation of the Affordable Care Act (ACA). It was during this time I also earned a Masters of Public Administration at night at Rutgers University. Due to my experience in the legislature, I was recruited to move to Washington, DC and join the federal government affairs team at AARP where I worked to defend the ACA and was the lead on Capitol Hill for all private-payer health insurance issues. Right before the 2016 presidential election, I went to work as Chief of Advocacy at the Alliance of Community Health Plans,  a trade association representing non-profit health insurance companies which are among the highest quality and best performing in the nation. During this time, I led the Alliance as it fought back against the 2017 effort to repeal and replace the ACA. In 2019, I moved over to head federal affairs at United States of Care which is a nonpartisan nonprofit founded by President Obama's former Administrator for the Centers for Medicare and Medicaid Services, Andy Slavitt. USofCare's mission is to ensure that everyone has access to quality, affordable health care regardless of health status, social need or income. We are rigorously nonpartisan and have accomplished a great deal working with federal policymakers to respond to the COVID-19 pandemic. 
Q: How did your SU experience prepare you for your career?
I originally chose to attend SU to major in Broadcast Journalism in Newhouse. However, on my first day of classes I walked into Stolkin Auditorium to take a survey class of Early Modern European history.  Then, on my second day of classes, I found myself in Maxwell Auditorium taking Introduction to the Analysis of Public Policy. Quite soon, I was dual majoring in history and policy studies. To this day, I believe I received an incredible education at SU that I rely on daily in my career. The focus inside Maxwell on service and being guided by the Athenian Oath to "...transmit the city not only less but greater, better, and more beautiful than it was transmitted to us," means a great deal to me. I also feel the history education I received at SU helps me put any piece of public policy I have worked on in perspective and is a critical foundation upon which I look at our never finished American work to make a more perfect union.  
Q: Looking back, what SU experiences have been the most meaningful to you?
Four areas emerge:
A deep and life-affirming connection with many of my professors that endures to this day.
A sense of belonging - and responsibility to - an institution that provided me with the things I needed to know to be useful in the world of government, public affairs, public policy and service.
A tremendous set of lifelong friends that continue to enrich my life.
Being on campus as a senior to experience the 2003 NCAA basketball national championship.
Q: Why do you feel that it is important to remain connected to the alumni network and the University?
At this stage in my career, I enjoy being connected to alumni, but specifically recent graduates and current students. In the instances in which I am lucky enough to be able to help guide folks just starting out, I find it energizing and a way to pay it forward. 
Q: What advice would you give students?
 Your career - and in many instances your life - is not solely within your own control. Being prepared to take advantage of opportunities that may come your way, however, is. 
Nobody does anything in life alone - one needs close friends and professional allies to help you make good choices but also to sustain you when things don't go as planned.
Build a strong sense of what is right and what is wrong and stay true to those things - at the end of the day, integrity is the currency of professional life.
Never be afraid to stand up for yourself, but strategically pick and choose the instances in which you do so.
I started my career with not a single political connection so I choose, as much as possible, to lift up and push forward the career of those coming behind me, especially if they come from backgrounds historically underrepresented.
If you choose to get married, make that the most important and intentional choice you will ever make. Marrying the right person for me has made all the difference.