Brandy Witthoft '01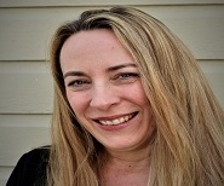 Q: Tell us about your career path and where you are today.
I am a foreign service officer with the United States Agency for International Development (USAID), and am currently the Evidence and Learning Team Lead in USAID's Democracy, Human Rights and Governance Center. After joining USAID in 2008, I served overseas for more than ten years in Senegal (2008-2012), Iraq (2012-2013), Turkmenistan (2013-2015) and Haiti (2015-2019) before returning to USAID's Washington D.C. headquarters in 2019.  
Q: How did your SU experience prepare you for your career?
During my time in SU's Maxwell School of Citizenship and Public Affairs, I earned a Master's in International Relations, a graduate certificate in Conflict Resolution, and attained All but Dissertation (ABD) status in the interdisciplinary Social Science PhD program. These programs greatly expanded my understanding of foreign policy and international development, while also combining academic rigor with real world applicability to prepare me for a career as a development practitioner. In my current role, I often serve as a liaison between academic researchers and USAID field staff working in partnership to make sure that development programs are evidence-based.   
Q: Looking back, what SU experiences have been the most meaningful to you?
The summer between the two years of my Master's program, I did a for-credit internship in one of the refugee resettlement offices in Syracuse. This experience was powerful because it provided a real-world opportunity for me to get to know Somali and Sudanese refugees who were rebuilding their lives after fleeing conflict. It added a human dimension to my studies of the historical and theoretical underpinnings of international development and conflict resolution in Africa. It also connected me to the Syracuse community beyond SU's campus, where I developed friendships and professional relationships that I maintain to this day.       
Q: Why do you feel that it is important to remain connected to the alumni network and the University?
As a student I dreamt of a career related to international development, but I did not always know how to get started. Now that I've been working in the field for many years, I like to remain connected to the SU alumni network in case I can provide advice or assistance to students with similar interests and dreams.
Q: What advice would you give students?
Pursuing a master's or doctoral degree is a rare privilege that the vast majority of the world's population will never have. My advice to students would be to use that privilege to make the world a better place, whatever that looks like to you.