Justine Hastings '21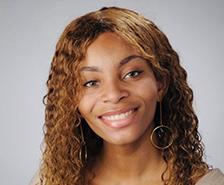 Where are you currently living? I am currently living in my hometown of Brooklyn, NY. 
What are you planning to do with your degree? I will earn a dual degree in English and Textual Studies and Secondary English Education. I plan to become a high school English teacher, but I am also open to wherever life takes me.
How did participating in Immersion Week impact your career path? One of the places my peers and I visited during Immersion Week was the Library of Congress. The Library of Congress also serves as a museum, with numerous exhibits. By touring the exhibits I realized that I have a strong interest in art and museum education. This inspired me to apply to the Museum Seminar (MuSe) Internship Program at The Metropolitan Museum of Art. In the summer of 2019, I was selected to be an intern in the Education department. I am currently learning about the practice of teaching and informal learning in a museum setting. By learning about theory as well as the practical aspects of teaching in the galleries, this will greatly aid me in my career as an educator.
Any advice for potential Immersion Week participants/future SU students? Utilize and exhaust all of your resources.