Sonia Suchak '18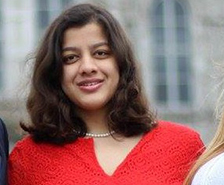 Grad Year: 2018
Majors: Policy Studies
Current Involvement: Student Association Cabinet, Peer Mentor Learning Advisor
Fun Fact: Sonia loves reading!
Sonia's Immersion Week Blog
If Syracuse University had to nominate a national poster child for confusion, they would have nominated me.
My life has been divided into two segments now. Pre D.C. and Post D.C.
My perspectives and dreams are now polar opposites. The confusion has slowly melted away like the snow Syracuse has been covered with recently.
Until the Immersion Week trip in D.C., the word "alumni" sounded like this mysterious, exotic phrase I had only read about in annual reports and the newspaper. Even though I am a Policy Studies major, I had no idea what a potential policy analyst job would entail. The future appeared like this white haze I would never have to encounter.
D.C. flipped this switch for me.
Throughout the week, I met alumni from across the board: alumni who were thrilled about providing advice, enthusiastic about connecting us with their contacts, motivated by their work and enthused by what might have seemed like our trivial questions. To be honest, there were moments through the week when I felt overwhelmed by this enthusiasm. Never had I imagined having close access to a network this diverse, this accomplished. To add the cherry on top, we found so much in common with them. From my point of view, the trip seemed like a week-long reunion of Student Association members from a range of sessions.
Moreover, I met people, sophomores on the trip with me that I will share relationships with that go beyond LinkedIn connections. The Congolese-Belgian conducting summer research in Paris. The features editor from the Daily Orange who sang in the Metro. SA's head of Membership and Elections. The British student fascinated by Sociology and the list continues. Sophomores, who challenged my thinking and encouraged me to explore career paths I wouldn't have imagined. They provoked me to take pride in my Indian-American identity. I was rather shy about my accent before the trip and now I am rather proud of my accent. Additionally, Mary, Skylar and Kristin from the Greenberg House as well as Tracy from Career Services directed us through the trip and pushed us back on the trail every time we felt exhausted, worn out.
After visiting government agencies, the World Bank, and having dinner with Megan Stull '00 and Khalid AlAjmi G'11 from the D.C. Regional Council, I am clearer about my goals and major. During the week I made the decision to apply for internships in New Delhi. I pushed myself to apply for two internships I thought I wouldn't receive. By the end of the week, I had an offer to intern as a food security policy intern with India's premier child rights research center. A month later, I was invited to work with a prominent Indian think-tank as a higher education policy advisee intern to members of the parliament for the upcoming monsoon session. I would have never even applied if it hadn't been for this trip.
I was recently invited to serve as the undergraduate representative on SU's Middle States Steering Committee. The Steering Committee is for the University's decennial accreditation review for the Middle States Commission on Higher Education. I know that as I start my work, I will remember the alumni I met who take such pride in our Orange traditions, accomplishments, and will continue to take pride. While I can't monetarily donate yet, I know that I will put in every iota of effort to ensure that Syracuse University receives the highest form of accreditation and remains the wonderful university the alumni remember and love.