Kathryn Banzer '14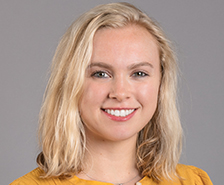 Where are you currently living? I live on Long Island, but will soon be moving to Ithaca to pursue my MBA at Cornell.
What are you currently doing with your degree? I started my career with Deloitte Consulting nearly five years ago. My work has been focused on technology implementations for state governments. Although I didn't have a tech background at SU, I apply the communication skills learned at Newhouse and critical thinking skills learned at Maxwell on my team every day. 
How did participating in Immersion Week impact your career path? Immersion Week gave me a crash course in networking effectively and understanding how to best market my skills for future employers. It also exposed me to what life is like in America's capital and introduced me to fellow classmates who I didn't know previously. 
Any advice for potential Immersion Week participants/future SU graduates? Keep an open mind throughout the week. Some experiences may appeal to you more than others, but there is something to be learned from everyone you meet. You never know where your next nugget of inspiration may come from.