Lauren Knafo '17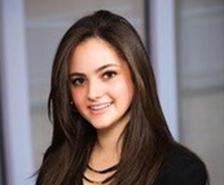 Where are you currently living? I am currently living on the Main Line in Pennsylvania (right outside of Philadelphia).
What are you currently doing with your degree? I am a rising 3L at the Villanova University Charles Widger School of Law. Although law school does not necessarily focus on marketing and economics (my degrees), I am able to apply my business acumen and analytical skills in the law school classroom. As a current Summer Associate at Blank Rome, I have found that business-focused courses in law school and my business background has enabled a better understanding of corporate clientele for both their litigation and transactional needs. I am hoping to continue my legal career in Philadelphia post-graduation.
How did participating in Immersion Week impact your career path? DC Immersion Week was a highlight in my student experience at SU. I met amazing people, including both current students who I hadn't met on campus and accomplished alumni. I made connections that guided me in my pathway to law school, including advice during the application process. I explored DC and felt immersed in the culture, the lifestyle, and the professional atmosphere. It was a week of maturing, networking, and having fun. As a sophomore at the time, the DC Immersion Week inspired me to continue working hard to eventually move to a city and have a successful career.
Any advice for potential Immersion Week participants/future SU graduates? For my advice, I would say to just soak in the entire week, from the people you meet, to the places you go, and the food you eat! The week flies by quickly, but it is an incredible experience that few students are privileged with. Get lots of business cards and take lots of pictures! It will be an experience you will never forget.