Nina Osuch '14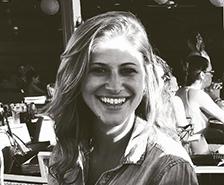 Where are you currently living? I am currently living in Los Angeles, CA.
What are you planning to do with your degree? I received two degrees, one in Television, Radio, & Film, and the other in Policy Studies. I had been in entertainment working at Paradigm Talent Agency for 3+ right out of undergrad, working up from intern to coordinator. I recently left the entertainment industry to pursue a Masters in Public Policy.
How did participating in Immersion Week impact your career path? Participating in Immersion Week has had a profound impact on my career path. It was during this Immersion I had connected with a woman who worked in Human Resources at Discovery Communications. This connection had allowed the opportunity to put a face to name while applying for an internship there that following summer. I gratefully accepted an internship at Discovery as TV Development Intern. This internship jumpstarted my career in the entertainment industry. 
Any advice for potential Immersion Week participants/future SU students? The advice I have for potential Immersion Week participants is to take advantage of all that it has to offer. Say yes to any opportunity whether that be an outing, or the chance to meet someone unrelated to what you may be interested in. A chance encounter in a completely different industry from what I intended as my career path led me to jump into a whole new career path.