Taylor Lucero '20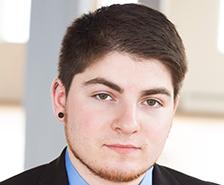 Where are you currently living? I'm currently living in Washington, DC within the Michigan Park area.
What are you planning to do with your degree? Unfortunately, as a rising Senior in the iSchool, I have so many vast notions of the future regarding where I would like to be or what I like to do after my time at SU. Should I go to Grad School or should I work a job for a bit in order to begin building my own professional repertoire? It's honestly a bit daunting, but regardless, as a Senior, I plan to graduate this upcoming spring with a major in Information Management and Technology, but with no idea on my future goals, back tracking to figure out my first steps on life outside of college is my only option.
How did participating in Immersion Week impact your career path? During the immersion trip we met with various Alumni that talked about their specific positions, fields, and how they ended up where they were at. Listening to their stories and advice, I found myself learning about being able to keep myself open, I shouldn't set myself on one field so early on. For them, being able to adapt to their varying situations allowed them to produce the best outcome, by opening themselves up to learn a broad set of skills, while also being open to new experiences and attending networking events to find opportunities or connections. For me, this advice was invaluable, the technology field is constantly changing and being able to be resilient and develop myself along with this change, I will somehow be able to find a niche or position best suited for me.
Any advice for potential Immersion Week participants/future SU students? Looking back, any advice I would give would be, to be open, go to networking events and put yourself out there, experience all that you can from this trip, studying abroad, or even work events. Expanding your scope will help you both during and after your time at SU. Go Orange!