Rochelle Coleman '05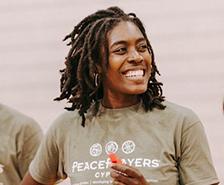 Q: Tell us about your career path and where you are today.
A: After graduating from Syracuse in 2005, I went on to complete my graduate degree at Slippery Rock University in 2006. During my time at Slippery Rock, I served as the Graduate Assistant Coach for the Women's Basketball Team. After graduating from Slippery Rock, I played professional basketball as a member of the Celeritas Donar basketball team in Groningen, Netherlands. In 2008, I started a training company, Rochelle Athletic Consulting, with personal training, basketball training, clinics and camps for the Washington, DC area.
In 2015, I started working with PeacePlayers International as an assistant coordinator for the DC Leadership Development Program. PeacePlayers International is a non-profit organization where we use the power of sport to unite, educate and inspire young people to create a more peaceful world. We offer sport programming, peace education, and leadership development to those living in communities in conflict. We challenge the hate that is driven by the fear of our differences. We bridge divides between people through the game of basketball and we develop young leaders who help to change perceptions. We operate programming in South Africa, Northern Ireland, the Middle East, Cyprus, and the United States.
Currently at PeacePlayers, I serve as the Learning and Development Program Manager, where I support three of our five domestic programs (Baltimore, Chicago, Los Angeles) as well as support curriculum and training development with our global sites. Through PeacePlayers and connections in the Sports Based Youth Development industry I have been able to work with amazing organizations around the world: The Real Medicine Foundation, We Coach , The Basketball Embassy, and Norlha Basketball
I also volunteer with KEEN of Greater DC, a great organization whose mission is to empower youth with disabilities by providing free, non-competitive one-to-one programs of exercise, fitness and fun, led by volunteer coaches.
Q: How did your SU experience prepare you for your career?
A: While at Syracuse I was an athlete, a History Major, and a minor in Entrepreneurship and Emerging Enterprises allowing me to interact with a diverse group of people with different mindsets and motivations.  As a history major learning how to take the time to be inquisitive, research, and share learnings so a novice or expert could understand impacts my work everyday.  
Q: Looking back, what SU experiences have been the most meaningful to you?
A: Being a part of Summer Start going into my freshman year was a great experience for me. It allowed me to make lasting friendships that I have to this day and made campus feel like home. One memory that is meaningful to me was sitting in the locker room my freshman year watching the NCAA Tournament announcement show to see if we made the NCAA Tournament.  Hearing and seeing our team name announced by Vera Jones, an SU alum, on ESPN was surreal. 
Q: Why do you feel that it is important to remain connected to the alumni network and the University?
A: From the moment I walked on campus and throughout my four years at SU, I always felt welcomed and challenged by the various people on campus. Once you've graduated from SU, you realize Syracuse alumni are everywhere! It's great to connect because we all have a passion for the school and take the time to help one another. The Greenberg House in DC offers awesome alumni programs and events, and they make an effort to connect alumni with current students, and I think that is what sets us apart from other schools. I was also able to connect with Syracuse alumni while still in high school (I'm looking at you Mrs. Walker), and I've wanted to be able to give back to SU so that people feel the sense of community I feel when I think of the University.
Q: What advice would you give students?
A: If you are able, try and have a career that you are passionate about or that sparks your interest. At times, that may mean you have to volunteer or work part time to get your foot in the door, but when you do ask questions, learn everything you can, work your hardest, and let people know you are interested in turning this opportunity into a career. My career has not been on a straight path, but the doors that have opened by me asking, "How can I help?" has lead me to a fascinating career. During my time at SU, I did not know that would be possible, but I was prepared because I went to SU.